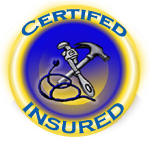 M. Sarnok LLC. services most of the Philadelphia region and all of Bucks and Montgomery Counties. Our specialty quality home and commercial maintenance and repair services include: Heating, Cooling, Plumbing, as well as Electrical and Carpentry services.
We stand firmly behind our 30 years plus of experience in the Building and Home Renovation Industry to provide excellent customer care. Our technicians are dedicated to quality work and craftsmanship as well as providing environmentally safe procedures. We understand how hard you (the consumer) works for your dollar. M. Samok LLC is dedicated to make your dollar work just as hard for you!
M. Samok L.L.C., was structured in 2005 as a Pennsylvania Limited Liability company to provide complete home repair and renovation contracting to homeowners as well as Rental Property Management companies and Real Estate investors in the tri-county area. General home repair and maintenance service including: HVAC,  plumbing, electrical repairs as well as  home renovations and carpentry services when needed. M.Samok heating cooling and plumbing technicians are licensed and trained to take care of your Heating, Air Conditioning & Plumbing needs. We know you cant pedict when you need a plumber or HVAC service technician that why we provide 24 hour Emergency service repair 7 days a week. Our service technicians are trained to work on all types of mechanical equipment, controls and are also certified to remove refrigerant per the latest Federal Regulations.
Our Mission
To provide customers with professional workmanship and quality service
To take pride in the work we perform.
To recognize that referrals are our most valuable asset.
To complete all jobs when promised.
To use only the finest quality materials.
To treat customers; property as if it is our own.
To create customer trust and reliability.
To maintain strong customer service policies, guaranteeing customer satisfaction.
To align the company within the community and build a strong reputation built on honesty and integrity.
To build a strong family owned and operated business.