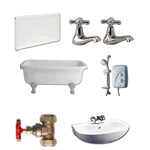 Whether it's a leaky faucet, toilet or sink repair, installation of a new water conditioner or any other plumbing concern, you can count on M. Samok LLC plumbing specialists to provide you with whatever you need. Have an emergency? We're available 24 hours – 7 days a week.
Whether you're installing a new bathroom or you're dealing with a clogged drain, the M. Samok Heating Cooling and Plumbing Professionals are a phone call away.
Our services include: bathroom remodeling, hot water heater installations, drain cleaning, fixing leaks, backflow prevention, toilet replacements and much more. M. Samok is a well-rounded plumber that is knowledgeable and experienced in all aspects of home and commercial plumbing maintenance and repair. We work on all brands and models of hot water heaters, including tank-less water heaters.
M. Samok LLC provides plumbing repair services in the tri-county area including Bucks Montgomery and Philadelphia counties. We can repair plumbing problems in your kitchen or bathroom, along with any problems you may have with your water heater. If your water heater needs repair, or if your water heater needs to be replaced, a representative can come to your home and provide an estimate. We can repair, or replace sump pumps, and provide power outage back-up systems as well.
Plumbing Services, Repairs and Installations:
Hot Water Heaters
Clogged Drains and Drain Cleaning
Sump Pumps & Well Pumps
Garbage Disposals
Faucets
Toilets
Sewer Line Replacement
Commercial Plumbing